Yes my darlings! It is guilty pleasure thursday. Which means, grab yourself some ice cream, watch a chick flick/Grey's Anatomy, gossip, spend the whole day in your prom dress, things of that nature. I love GPT. Plus! So You Think You Can Dance premiers tonight and that is my favorite summer show.
I've been re-watching the films I own lately because I am too lazy to go out and get new ones. I really need to go out to the movies because there are so many I want to see that I haven't seen yet. I REALLY need to see Forgetting Sarah Marshall because my boyfriend Russell Brand is in it! My love for Russell knows no bounds.
Lovely.
I also really want to see Iron Man, and Speed Racer even though it got shit reviews. I love Emile Hirsch (Into The Wild was AMAZING) and Christina Ricci. I'm also hopefully going to go see Prince Caspian again and spend some time with my new boyfriend Ben Barnes.
I just finished watching Match Point. I've seen it before and it was not as sexy as I remember it being. Sometimes I like Scarlett Johansson and sometimes she bugs me. This time she bugged me. And Jonathan Rhys Meyers is fiiiinnee but his accent was bugging me in this movie. Decide if you're English or Irish, JRM, don't float in between. I just YouTubed him and sometimes he seems more Irish and sometimes more English. It's weird.
I also re-watched The Dreamers which was just as sexy as I remembered it and makes me want to move to Paris.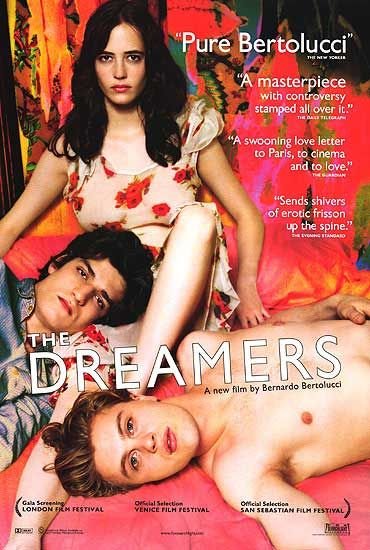 Louis, Michael, and Eva are just so beautiful together and so incredibly sensual. I love every second of this film and wish I knew where to find beautiful French friends like that.
I also wish I knew where to find French films. I bought a book called "Merde! The Real French You're Never Taught In School" which is like a dirty dictionary of slang terms and such. I'm really excited to read it and learn. Angela and I are going to try to use my dad's Rosetta Stone program to learn French so that we can move to Paris.
I also really want to re-paint my room but I have no idea what I want to do with it. I wish I had an artist friend who could just use my room as one big canvas. That would be ACE.
xoxo,
Christina